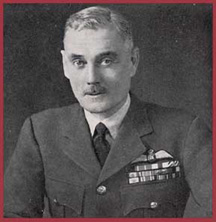 Sqdn Leader Strange DSO MC DFC
Squadron Leader Strange DSO MC DFC was appointed as commanding officer of Ringway
and was joined by Squadron Leader Jack Benham, as chief instructor, and Major John Rock
who was to be the senior army officer at the School. It was quickly realised that Ringway would
be too busy to act as a landing ground for the trainee paratroopers and alternative locations were
considered including Tatton Park, Lord Egerton's large secluded estate strategically located just
five miles south of Ringway.
Louis Strange had been a well-known pilot even before his World War One exploits, and had met
Lord Egerton, who was also an early aviator. Strange visited Tatton Park on 6 July, securing his
lordship's ready agreement to use the park, initially only as the main dropping zone.
Strange attributed the early success of the PTS to Lord Egerton's co-operation, and recorded that
Maurice 'gave us every possible support, assistance and encouragement'. We cut down his trees,
we knocked down his gateposts, we landed all over his park but he never had any complaints and was always helpful and full of encouragement.