To increase the throughput of trainees, large modified HZA hydrogen-filled barrage balloons of 42,000 cubic feet capacity were introduced to Tatton Park. Three were eventually used, the first being named `Bessie', who twice `escaped' in strong winds once reaching Coventry before recapture. A cage was slung beneath the balloon, with a `Whitley hole' in its floor. The balloon was tethered by cable to a winch vehicle, which steadily allowed the `blimp' to rise to 800 feet. An RAF instructor would accompany four or five trainees in the cage and one balloon could drop three times the number of trainees in an hour that a Whitley could, and the absence of a slipstream tended to reduce the snagging of para lines, which was a major cause of injuries and fatalities. However, many trainees disliked the eerie silence as the Balloon rose and as they jumped, preferring the deafening noise of the Whitley's engines. By 1944, modified larger cages with a side exit had been fitted to prepare trainees for jumps from the Dakota.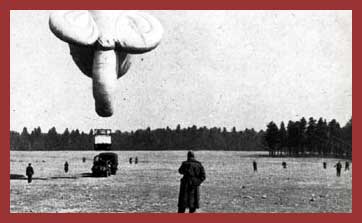 Click here for enlarged photo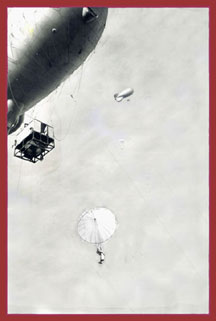 Click here for enlarged photo

We all think this Ringway's a wonderful sight
With paratroops jumping by day and by night
No more ten mile runs with rifle and pack
We've all survived Hardwick and are not going back
And Kilkenny's Circus is something to see
We sail through the air on the flying trapeze
Introduced to the Whitley, a hole in the floor
We prefer the Dakota, you jump through a door !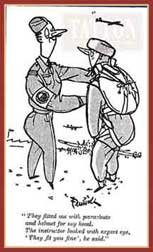 Click here for enlarged photo
The balloon went up slowly to 800 feet
When it stopped with a jerk I was white as a sheet
Then it swayed side to side as I waited my call
And I clung to the cage terrified I might fall
Then the Sergeant said "OK!", it's your turn , "GO!"
I jumped into space, far too proud to say "No!"
As the ground rushed towards me, I looked to the sky
God ! my 'chute hasn't opened, I'm going to die !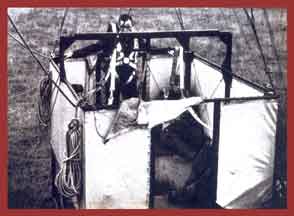 Click here for enlarged photo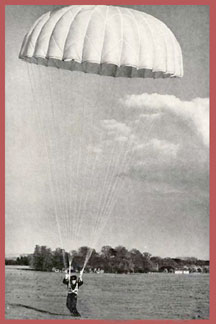 Click here for enlarged photo
Still falling I scream, but no sound from my lips
Then the canopy opened, a crack like a whip !
A sharp tug on my harness, I hover in space
I feel I'm in heaven, a smile on my face
But an instructor below, is shouting at me
"Pull down hard on your liftwebs ! you're close to a tree
Feet and knees close together, I'm coming down fast
Forget to lean forward ! fall back on my Arse !
Wattie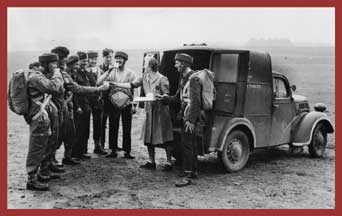 Click here for enlarged photo
Mrs Smalley and her cheery group of local ladies were always waiting to serve tea and other modest goodies from their YMCA tea van to trainee paras who had just dropped over Tatton Park. The van later proudly wore the paratrooper's winged `Pegasus' symbol, to mark its huge contribution to morale. The recruits in the photo are waiting for their turn to jump to from `Bessie' the balloon.
Last Update 16th JULY 2014